Payeezy® Gateway
TransArmor Tokenization
Payeezy® Gateway's TransArmor® solution uses tokenization technology to remove the need for merchants to store card data by replacing it with a randomly assigned number, called a token, after authorization.
TransArmor minimizes risk by reducing the scope of PCI compliance, shifts the burden of protecting cardholder data from you to CardConnect, and allows the 'token' to be used for other business and sales functions such as returns, sales reports, analysis, etc.
Reduce your PCI Scope
The TransArmor solution meets the PCI Security Standards Council guidelines for tokenization. Removing payment card data from your systems also removes it from your PCI scope, reducing the time and resources needed to meet PCI compliance requirements.
TransArmor Features
Card-based, random-number tokenization—completely removes sensitive cardholder information from the merchant by replacing the Personal Account Number (PAN) with a random token value
The format-preserving token value can be used in place of the PAN to continue to support business analytics and reports, anti-fraud activities, etc.
---
Apply Online
For instant approval!
How the TransArmor Solution Works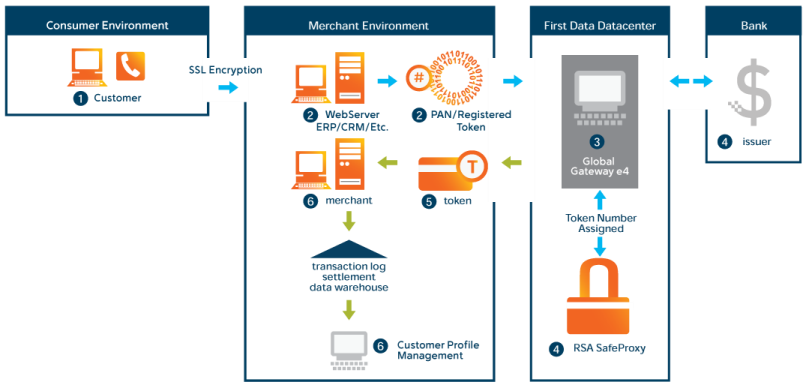 Payment card information is keyed into merchant's payment page (Hosted Checkout or Web Service API)
Personal Account Number (PAN) and expiration date are sent to the Payeezy® Gateway.
Payeezy® Gateway builds a message to the switch that includes the data elements captured by the merchant.
Card number is passed to bank for authorization using SSL encryption and also to CardConnect for tokenization
Authorization and token number are returned to the merchant
Token number replaces card number in all subsequent instances and activities such as analytics, marketing, etc.
Settlement, adjustments, refunds, chargebacks and other activities are performed using the token number in place of the card number